---
Pitch
We build online trees investment based on website and mobile applications to maximize the role of society to solve Indonesian deforestation
---
Description
Summary
Based on Forestry Ministerial Decree concerning Provincial Forest and Marine Conservation of Indonesia, areas of Indonesia forest up to 2013 is 129.425.443,29. It has brought Indonesia as the 8th largest forest areas in the world. Indonesia has an important role in global climate change. Forest acts as a filter to reduce global warming significantly. Based on Forestry Minister of Indonesia, deforestation in Indonesia on 2012 is 1.447.800 ha. Illegal logging, land expansion, or accident like forest fires that happen in Sumatera Island in 2015 that caused deforestation area of 58.000 ha are the main causes of deforestation or forest degradation. These conditions create a super wide of degraded land in a four regions as reported by forestry department of Indonesia.
Climate change is already having a significant impact on ecosystems, economies and communities. Some of the most dangerous consequences of climate change are higher temperatures, changing landscapes, wildlife at risk, rising seas, increased risk of drought, fire and floods, stronger storms and increased storm damage, economic losses and threatens the health of our children and grandchildren through increased disease, freshwater shortages, worsened smog and more. These impacts also pose incalculable economic risks that far outweigh the economic risks of taking action today.
To prevent worsening global climate change and its impact, there must be efforts to afforestation-degraded land that happened by maximize the role of society. However, planting trees as efforts of afforestation is not something that caught the eyes of the most society. It is one of the reasons why afforestation is growing slowly. Most people still rely on government to solve this problem. Another problem arise when people did not know how to participate in solving deforestation because government owns the land.
Based of those problems, we propose TAPONKATUL as a solution to solve the issue. TAPONKATUL is an online trees investment concept as the facilitator between investor and PERHUTANI (government). There are four elements in this concept: first, the investor will invest their money to afforestation; second, PERHUTANI as the land provider; third, investment companies; and the last but not least, the farmer.
TAPONKATUL is stands for "Tanam Pohon Karek Nutul", from Javanese language that means you can plant trees with your thumbs. On this concept you can plant trees and solving deforestation and forest degradation by your thumbs via smartphone or our website so that why this project we call TAPONKATUL.
The scenario behind this idea is started when investor invests to companies via TAPONKATUL, companies will find farmer to planting and take care of trees, and government will provide degraded land for planting trees. As a strategy, we will only planting tress that have commercial value like Royal Tectona and Cassia sp. The concepts of profit sharing will be applied with ratio 60:30:5:5. The 60% for investor, 30% for companies, 5% for farmer, and the last 5% is for government. For example, if you invest 1000 Royal Tectona in 2015 you will gate 60% (600 trees) with tolerance of death 10% (100 trees) and the price of Royal Tectona in 2023 is Rp.20.000.000,00 you will get profit 500x20.000.000,00=10.000.000.000,00 rupiah .This scenario is one of the points of interest to invite society to take action in global climate change.
Furthermore, TAPONKATUL also comes in website and mobile application, its can be access from everywhere and anywhere. TAPONKATUL application will be equipped with some features like carbon footprint calculator, forum discussions, monitoring, and report menu, and climate change game. Thus, the investor able to supervise how their plant grows and take action in reducing carbon footprint or having some discussion with another investor while they can playing game.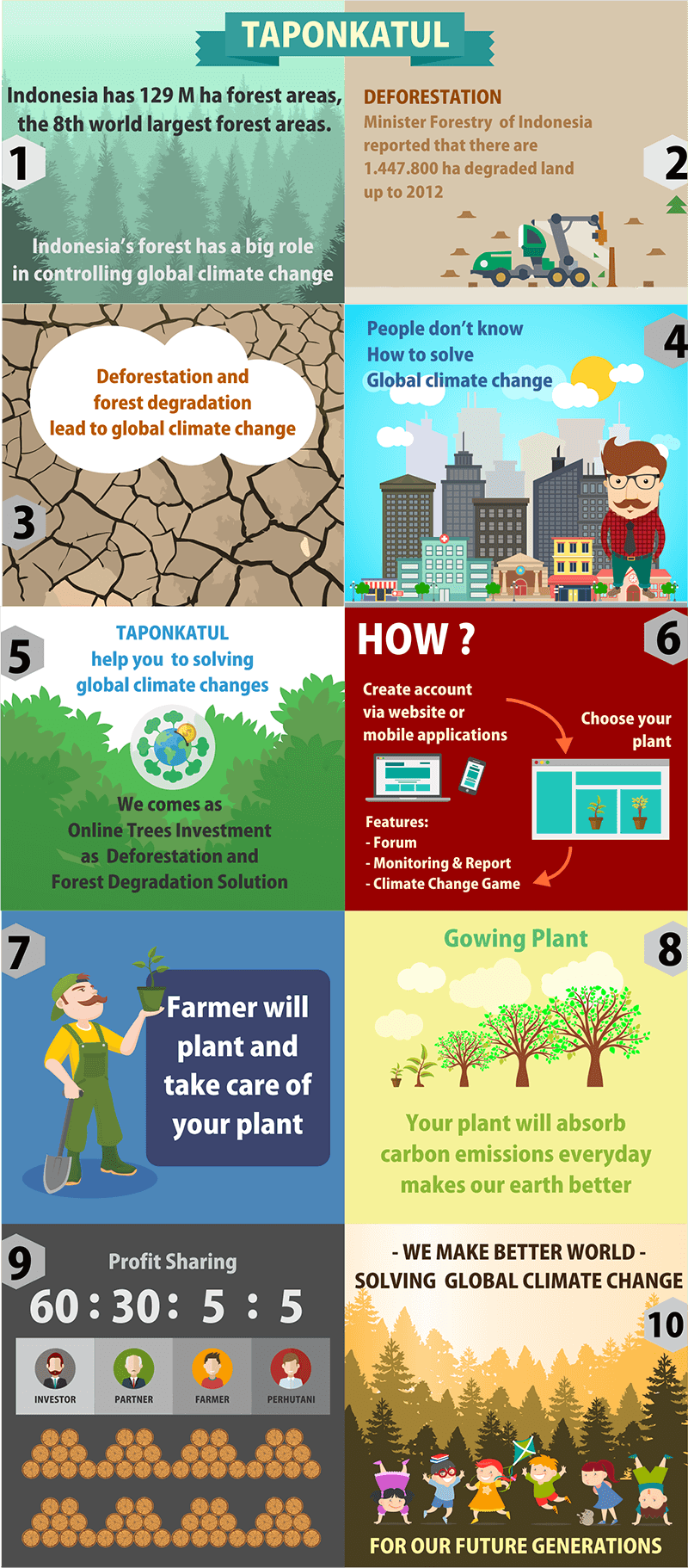 Figure 1. infographics about TAPONKATUL work systems
---
Which plan do you select for China?
A Carbon Negative Infrastructure and Economy: A Systems Design/Mngmt Approach
---
Which plan do you select for India?
Renew India: Public Transport with no Carbon Footprints.
---
Which plan do you select for the United States?
(Revised)Plan to build low-carbon cities from the ground up in the United States
---
Which plan do you select for Europe?
Europe's Integrated Climate Action Plan
---
Which plan do you select for other developing countries?
Cooling Climate Change in Developing Countries!
---
Which plan do you select for other developed countries?
Reforestation Olympics
---
What additional cross-regional proposals are included in your plan, if any?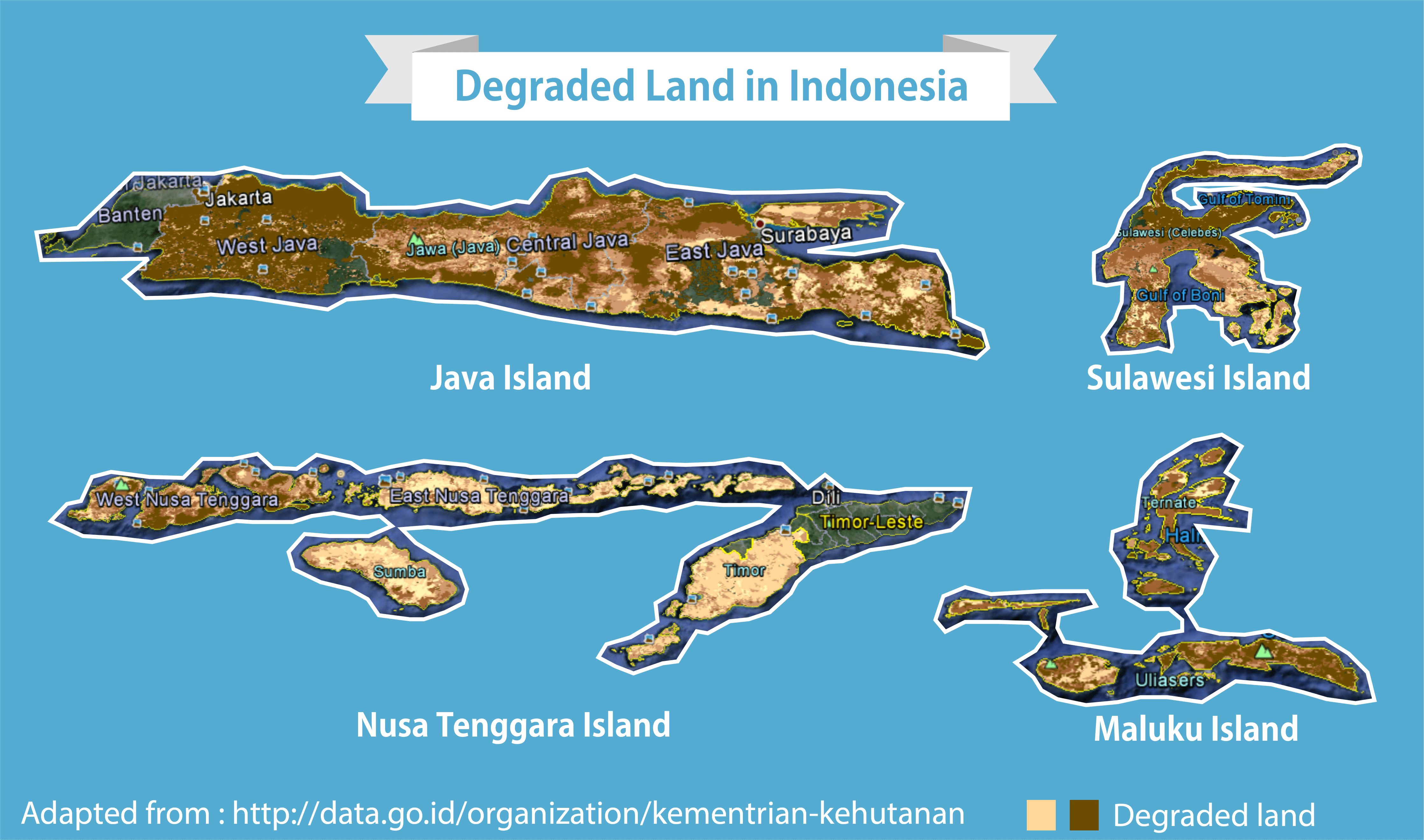 Figure 2. Map of degraded land in Indonesia.
The regions that have been chosen are Java, Sulawesi, Nusa Tenggara, and Maluku Island. The reason why we choose those regions is based on the data that reported by Ministry of Forestry of Indonesia, those regions are the most degraded land in Indonesia as the figure Degraded Land in Indonesia above, almost 90% of the land are degraded. You can see the maps via google earth here. Thus, those regions have a big role to lead global climate change. Nowadays, global climate change make our land in Indonesia not healthy as before, it caused a decreasing a harvest results. It also lead to natural disaster such as flooding that happened on those region every rain season. It also make our flora and fauna extinct because they don't have habitats and can't adapt to global climate change situation like the change of temperature and weather that not balance and can't predictable. Dryness happen everywhere and new disease appear every year.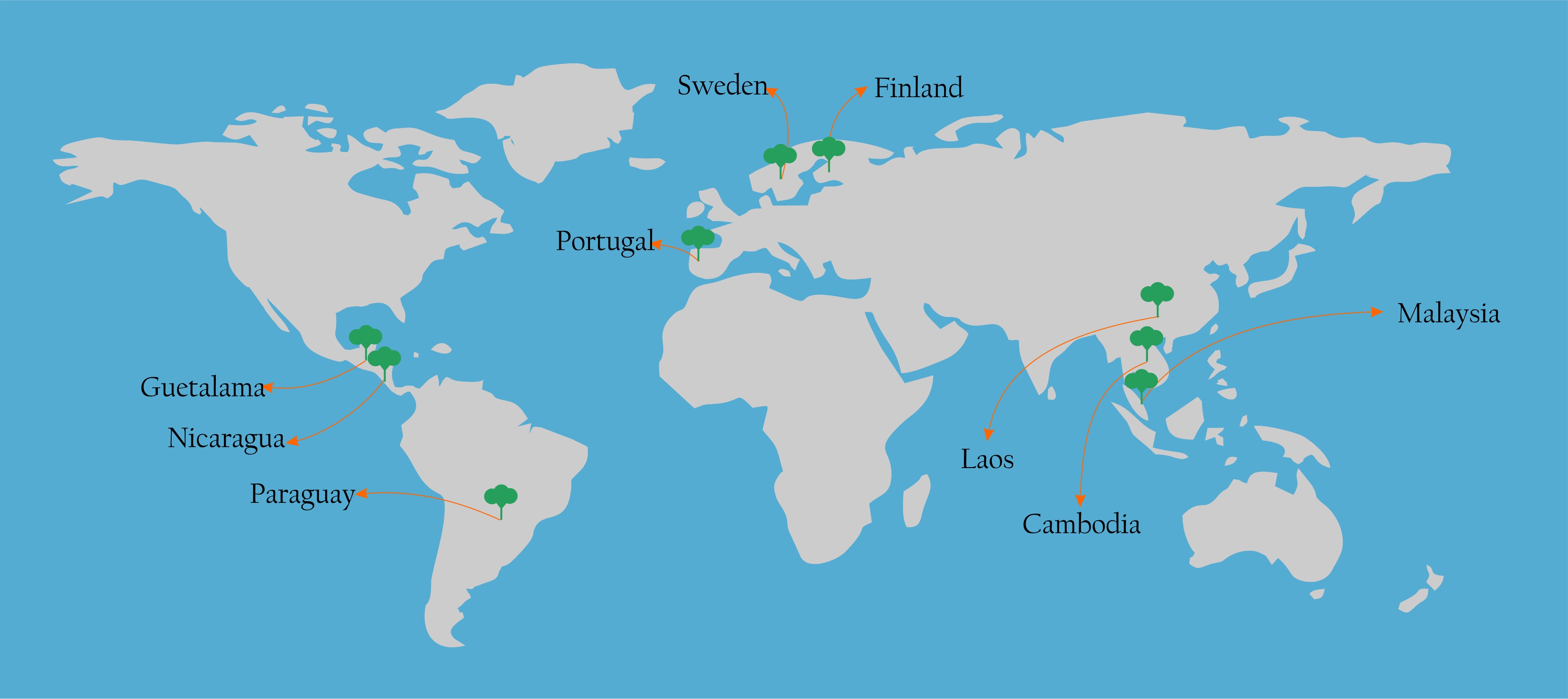 Figure 3. Map of countries with highest deforestation.
Our plan also can be applied for countries with highest deforestation such as Malaysia, Paraguay, Guatemala, Cambodia, Nicaragua, Finland, Sweden, Portugal, and Laos.
It also can apply for countries that incorporated in United Nation REDD ( Reducing Emissions from Deforestation and Forest Degradation ) program like Bolivia, Republic Democratic Congo, Indonesia, Panama, Papua Numina, Paraguay, Tanzania, Vietnam and Zambia. Forest Carbon Partnership Facility, FCPF like Argentina, Bolivia, Chili, Costa Rica, Equatorial Guinea, El Salvador, Ethiopia, Gabon, Ghana, Guatemala, Guyana, Honduras, Indonesia, Cambodia, Kameron, Kenya, Colombia, Liberia, Madagascar, Mexico, Mozambique, Nepal, Nicaragua, Panama, Papua Numina, Paraguay, Peru, Republic Africa Tengah, Republic Democratic Congo, Republic Congo, Republic Democratic Laos, Suriname, Tanzania, Thailand, Uganda, Vanuatu dan Vietnam.
---
How do the regional and cross-sectoral plans above fit together?
The regional that we choose are Indonesia, UN-REDD member, and FCPF member. all those regional are have same problems about carbon emissions and have the same vision to reducing emissions from degradation and forest degradation that mentioned on UNITED NATIONS FRAMEWORK CONVENTION ON CLIMATE CHANGE, United Nations-REDD, Forest Carbon Partnership Facility agreement.
The regional that we choose and cross sectorial plans were selected have same vision to reduce carbon emissions like India, United States, Europe, and Developing Country. While Developed Country have same vision to solving deforestation issue.
All of them can together solving REDD issue using TAPONKATUL concepts. Is not problems where are you come from you can join TAPONKATUL to invest trees.
There are same strategy that we prepare.
1. TAPONKATUL is adopted by every single regional, only people from those regional is allowing to invest.
2. There is just one TAPONKATUL, people from different country can invest.
3. We utilize the pension fund of Pegawai Negeri Sipil (Civil Employee). We give the fund in the beginning, but the must invest their pension fund for planting trees.
Let us elaborate the third strategy. Stern Review on the Economics of Climate Change said that the cost to reducing emissions from deforestation and forest degradation is up to $33 billion/years from now to 2030. It will be more fast and easy if we use the government role as policy maker to use the pension fund of civil employee to invest trees. Simple calculation, if we have 200 million civil employee and they get pension fund it's about 200 million rupiah we will get $29, 62 billion in one country/years. We can solve this problem together. This modal will be invest in TAPONKATUL, after harvest, they will get profit sharing, so we will get many advantages here, especially in REDD funding and save our lovely earth.
From those strategy we can create international agreements "Pension Funding for Trees Investment"
TAPONKATUL comes with same features like monitoring and report. By this feature we can know the location where the trees that we invest, we also know how old our trees, the number of our trees that is still live and death and how many carbon emission that had been absorb by our trees. In this feature is completely by share menu, so we can share our plant conditions to our friends in social media. This is one of our way to promote our concepts to society, we use the power of social media to make our concept as new lifestyle of life.
Another feature is forum discussion, in this feature we hope we can deliver our idea to improve TAPONKATUL system, concepts, and content. It's also can be as media to discuss new information or issue about global climate change and its solutions. People from different regions can discuss together, sharing their way to solve global climate change. In this feature we also hope that it will be invent new strategy, policy, or agreements to face global climate change together.
We also have additional feature, TAPONKATUL game. This game will explain how trees investment work. It's our strategy to promote and attracting people to join TAPONKATOL by playing game. Our games is started by puzzle game to solve some regions with degraded land. Starting here, we hope player can know where and how degraded land. Than we teach them how to solve climate change, and the solutions is by planting trees, and by trees investment they will some benefits and can help save the earth.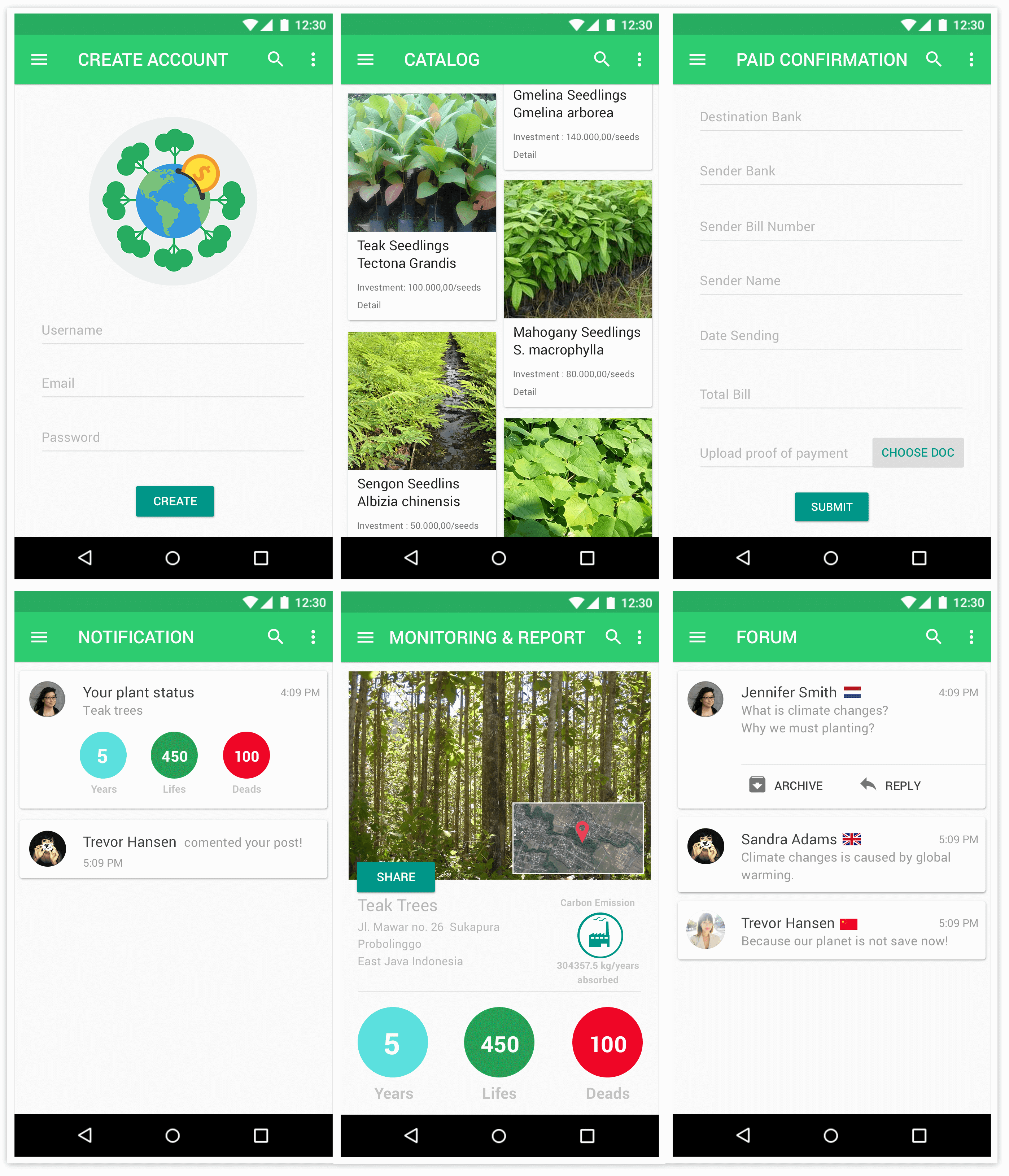 Figure 4. TAPONKATUL mobile applications displays.
---
Explanation of the emissions scenario calculated in the Impact tab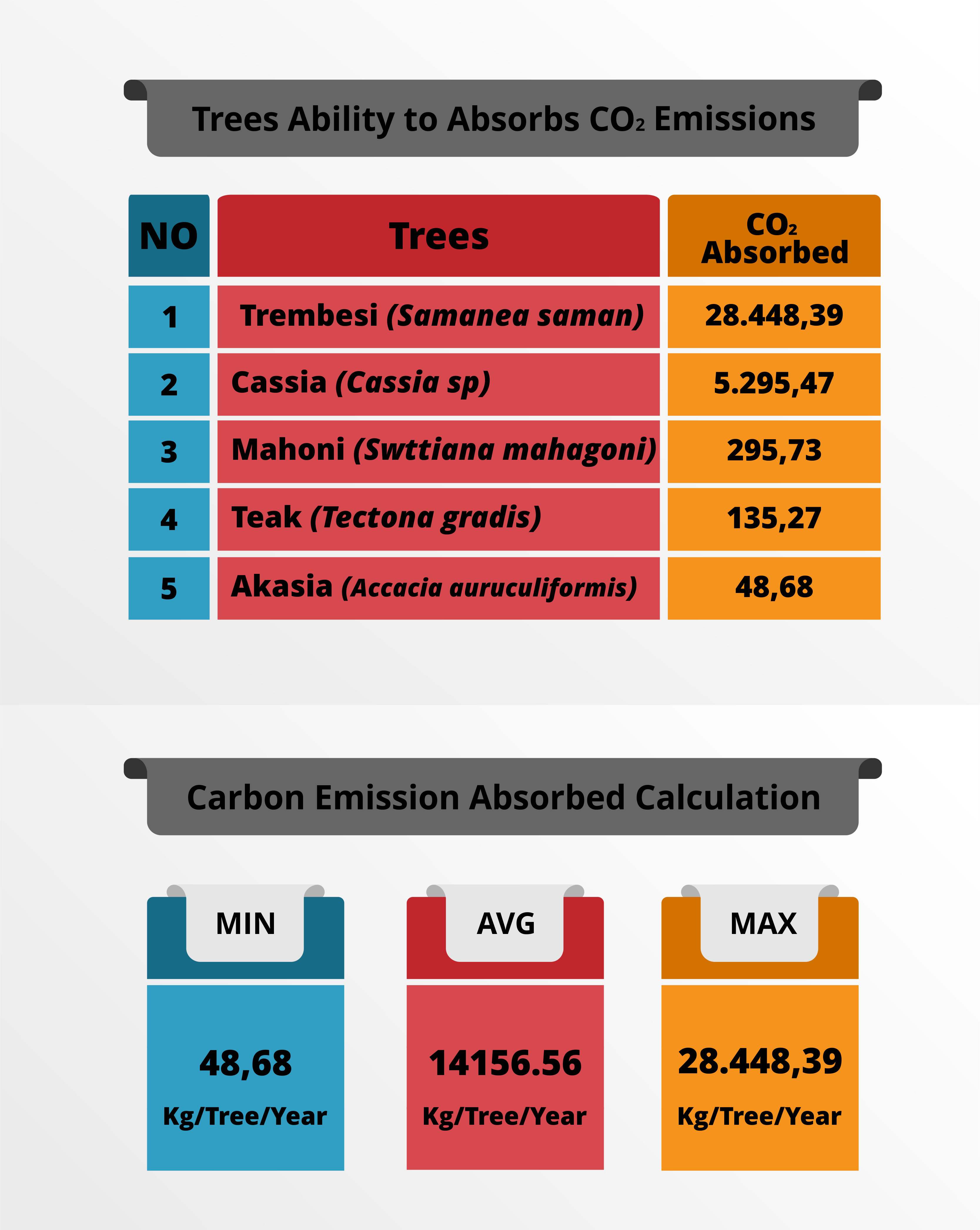 Figure 5. Data of trees ability to absorbs CO2 Emissions and Carbon Emission Absorbed Calculation.
Based on data that reported by Forestry Ministry of Indonesia on Statistik Kementrian Perhutanan Indonesia 2013. They found that the areas of forest in Indonesia reached 129,425,443.29 ha with 1.4478 million ha of degraded land areas up to 2012. In the short term the priority level management needs, these critical areas or degraded land will be optimized first. Our observations say that 1 ha of land can be planting for about 1000 trees, we get 1.4478 billion trees for afforestation of degraded land available. Maximizing the role of productive age in Indonesia, which recorded the Central Bureau of Statistics in 2010 as many as 100.418.626 people, everyone can contribute significantly to the preservation of the earth by investing 14 trees for Indonesian people.
Table of trees ability above show that the ability of commercial trees to absorb CO2. By choosing teak trees as most commercial tree for greening degraded land, teak trees have the ability to absorb CO2 as much as 135.27 kg / tree / year. By real calculations, with optimization of degraded land we will get 195 843 906 000 kg / year of CO2 emissions absorbed and during the treatment period until harvest will get 1,566,751,248,000 kg of CO2 emissions absorbed. imagine if this concept is adapted by all countries that we choose, it will be produce a great number of carbon emission that would be absorbed, the global climate change would be handled soon.
---
What are the plan's key benefits?
The benefits offered by TAPONKATUL are:
Social, Culture, and Economy :
The project provides job vacancy for more than 1000 people around both productive and non-productive.
Build and develop village facilities and infrastructures.
Optimize the equalization of rural economy for village people by buying fertilizer from surrounding community.
Profit sharing, 60% for investor, 30% for organizer or companies, 5% for farmers, 5% for government.
Environment and Conservation :
Tree produces oxygen
Tree cleans the soil
Tree controls noise pollution
Tree slows storm water run-off
Tree are carbon sinks.
Tree cleans the air
Tree shades and cools the environment
Tree acts as windbreaker
Tree fights soil erosion
Tree absorbs carbon emissions.
---
What are the plan's costs?
Hosting website $10/years x 10 years (digital ocean server) = $100
Website Domain $11/years x 10 years (niaga hoster) = $110
Website and mobile applications developing $400
Observation and Publications $500
---
What are the key challenges to enacting this plan?
1. Publication of TAPONTAKUL itself, the work systems, and the applications.
2. Attracting people to participate in TAPONTAKUL with all the advantages and benefits offered
3. Collaborate with the government and relevant agencies for developing TAPONKATUL in implementations, system, and it's applications.
4. In cooperation with the sponsor to improve the quality of service
5. Improve the orientation of socio-planet-economic on all elements of society
6. Looking for a partner for the marketing of the crop
---
Timeline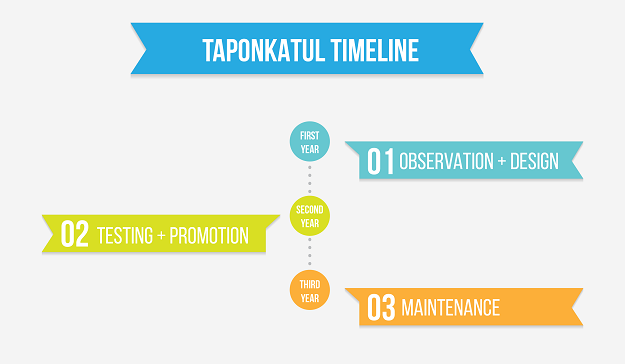 Picture 6. TAPONKATUL timeline
1. Observation and Design
We observe market demand, where the plant will be planted, kinds of plant that can be sell, how investment system work, finding partner, learning the regulation, and than we analyze the result followed by building the content of applications.
2. Testing + Promotion
In this session we will launch the applications, find the bug by trial and errors and developing the content while we spreading the publication by social media like YouTube, Instagram, Facebook, etc.
3. Maintenance
After the release of the application in stable version, we will treat and maintain taponkatul in order to increase the number of investor. Thus, the rating of the website and application will increase significantly. In this session we will supervise TAPONKATUL periodically, so that we can handle the bug or error. System Development Life Cycle (SDLC) Model
This is also known as Classic Life Cycle Model (or) Linear Sequential Model (or) Waterfall Method. This model has the following activities.
1. System/Information Engineering and Modeling
2. Software Requirement Analysis
3. System Analysis and Design
4. Code Generation
5. Testing
6. Maintenance
---
References
Map of World, Top Ten Countries with Highest Deforestation
Greenpeace, REDD
Fajar, Jay.2015. Penuruna Emisi dari dalam INDC Indonesia belum jelas. Kenapa?. Indonesia: Mongabay