---
Pitch
Using green economic growth to create scalable, replicable financial incentives for the sustainable management of forest landscapes.
---
Description
Summary
Cattle ranching and large-scale agriculture are the primary drivers of deforestation in Brazil's Amazonian State of Acre. Extensive land-use patterns must be replaced by far more intensive and sustainable land-use strategies if deforestation rates are to stabilize at the relatively low level achieved in recent years. In addition, new land use strategies must be developed to meet households' growing need for cash income; support the sustainable growth of wood-based industries; and accommodate the expected impact of a federal highway linking Brazil to the West Coast of South America - and Pacific markets - through Acre.
Towards this end, Floresta has been working with the Government of Acre and other stakeholders for four years to design an integrated REDD+/green economic growth project that increases economic incentives and practical opportunities for sustainable land use. The project described in this proposal is the result of our collaborative efforts and, when implemented, will play an indispensable role in the world's first Jurisdictional REDD Program under the Verified Carbon Standard. As significant, our approach will enable Acre to transition its energy supply from imported fossil fuels to locally grown biomass and municipal waste. By combining land-use and energy solutions, we provide landowners with economic alternatives to deforestation; channel market forces to help finance large-scale reforestation; empower the State to cut its reliance on diesel for energy; and reduce the environmental hazards posed by poorly managed municipal waste.
The "SMART" objectives of our Public-Private-Community partnership are to:
Permanently reduce emissions from deforestation & forest degradation throughout the State by at least 19.5 million tons
Establish productive plantation forests on 70,000 hectares of degraded land
Generate at least 35 MW of energy needs from plantation biomass and municipal waste
Our proposal is both scalable and replicable in other forest landscapes.
---
What actions do you propose?
The Challenge
Approximately 53 per cent of Brazil's native vegetation is on private property. Native forest and savannah on these lands store as much as 105 ± 21 GtCO2e (billion tons of CO2 equivalents) and provide a broad range of ecosystem services. As such, the sustainable management of Brazil's privately owned land is essential to the country's development – as well as global efforts to mitigate climate change.
Brazil's Forest Code is the country's central piece of legislation regulating land use and management on private property. Since its passage in 1965 and revision in 2014, the Forest Code has been notoriously controversial… and difficult to enforce. The State of Acre, in northwestern Brazil, illustrates why the Code's strictures on deforestation have been so hard for even well-intentioned authorities to enforce: First, many local people see few means to improve their livelihoods or raise incomes other than through the conversion of forest to pasture or agriculture. Second, government capacity to monitor and enforce forest laws is insufficient to manage the State's vast area. Third, substantial deforestation is at the hands of low-income, traditional populations that the Government ardently wishes to support, not prosecute.
The Government of Acre is currently investing in its capacity to monitor and enforce forest laws. Meanwhile, it has established a range of plans (e.g. the State Plan for the Prevention and Control of Deforestation), policies (e.g. the State Policy for Addition of Value to Forest and Environmental Assets), programs (e.g. the State Program for the Recovery of Altered Areas), and projects (e.g. the State Project for Planted Forests and Modernization of Extractive Activities) to generate jobs and reduce poverty through the wise use of forest resources. However, these efforts cannot expand fast or far enough to meet government aspirations, popular expectations, or market demands. Therefore, forests continue to fall. This will not change until there is sizeable, long-term, and commercially viable investment in alternative livelihoods and sustainable forest-product supply chains. Government does not have the financial resources, skills-sets, or business relationships to make this investment. Nor do other conventional actors.
A Solution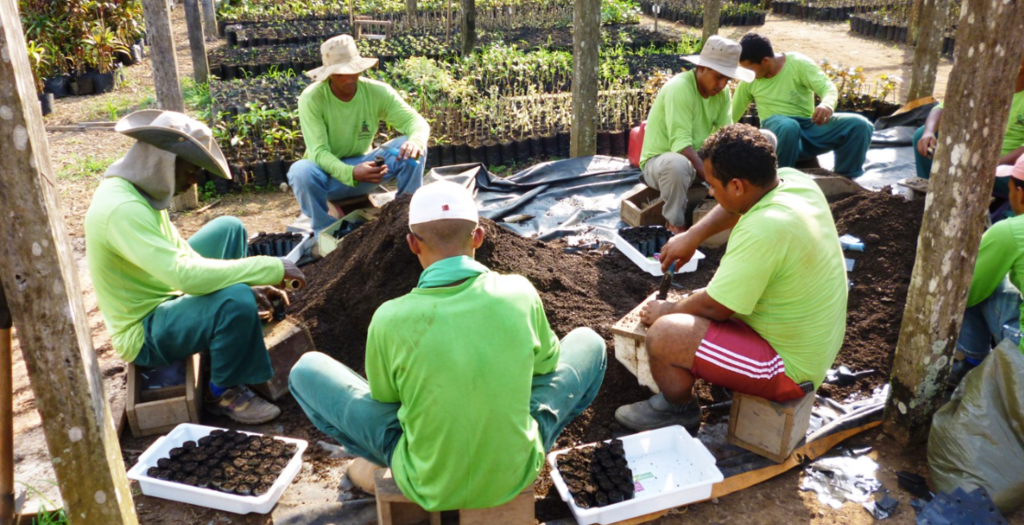 Floresta Brasil, a private sector start-up company, has been working with local stakeholders for four years to design an integrated REDD+/green economic growth project that can help break this impasse and build the "fair and competitive clean economy with a strong forest base" envisioned by the State Government of Acre.
This project is the result of our collaborative efforts and, when implemented, will play an indispensable role in the world's first Jurisdictional (border-to-border) REDD Program under the Verified Carbon Standard. As significant, our approach will enable Acre to transition its energy supply from imported fossil fuels to locally grown biomass and municipal waste. By combining land-use and energy solutions, we provide landowners with economic alternatives to deforestation; channel market forces to help finance large-scale reforestation; empower the State to cut its reliance on diesel for energy; and reduce the environmental hazards posed by poorly managed municipal waste.
Public-Private-Community (PPC) Partnership
In order to ensure long-term alignment of interests, Floresta Brasil and the State Government of Acre, through its Company for the Development of Environmental Services (CDSA), have formed a joint venture – Refloresta Acre ("Reforest Acre"). This joint venture will then form long-term partnership agreements with local landowners in order to:
Establish productive plantation forests on 70,000 hectares of degraded private land.
Permanently reduce emissions from deforestation & forest degradation.
Refloresta's activities will initially focus on the most heavily deforested and degraded areas within Acre, specifically targeting the 25 kilometer-wide ribbon along the BR-317 and BR-364 roadways that Government has prioritized for rehabilitation through plantation forestry.
Landowners have several incentives to partner with Refloresta. First, our business model provides an economically viable pathway for them to comply with Brazil's Forest Code and avoid hefty fines. Though the Code's enforcement has been spotty in the past, it is increasingly clear that this will change. Most landowners, especially the largest landowners, acknowledge this as an inevitable consequence of Brazil's economic and political maturation. Second, compliance with the Forest Code allows landowners to access subsidized government loans for livestock intensification, etc. that can significantly increase household incomes. Third, regular payments from Refloresta will stabilize and (particularly in the case of small and medium sized landowners) increase household incomes. While the emphasis that different households place on each incentive will vary, the crucial conclusion is that they are sufficient to drive participation in Refloresta's PPC scheme.
The Role of Renewable Energy
Refloresta could not realize, much less sustain, its ambitious social and environmental objectives if they were not rooted in a sound, "bankable" business model. We believe that this has been achieved by linking improved land use change with the transition to renewable energy.
In order to effectively reduce deforestation and forest degradation in Acre, Refloresta has to operate at a meaningful scale. However, this gives rise to a burning question: "Who will buy all that wood?" Though growing quickly, the local wood industry cannot consume 70,000 ha of timber. Meanwhile, export opportunities are promising but far too uncertain to satisfy investor requirements. The answer is to:
Provide a sustainable supply of raw materials to the local wood industry,
Export high value timber species (esp. teak), and
Sell the remaining wood as biomass for renewable energy generation.
Biomass plays a crucial part in Refloresta's business model because it can ensure a market for 100 per cent of the company's output and begin generating returns in the short-term rather than having to wait until a first harvest of slower growing hard woods.
The project's renewable energy target can best be met through a two-pronged approach that increases existing capacity while building new facilities. Two of Acre's largest lumber mill operators are already generating some power from wood waste and want to work with Floresta to expand their generating capacity by 10-15 MW. Technical and financial feasibility studies suggest this can be done at low cost by leveraging the mills' human and physical infrastructure. Meanwhile, the remaining 20-25 MW would be met by installing cutting-edge biomass gasification plants.
Biomass gasification plants can convert plantation grown eucalyptus to energy through a high temperature process (1200ºC to 1600ºC). These plants have a number of benefits, including the ability to produce synthetic fuels compatible with conventional diesel engines.
Feasibility, Scalability and Replicability
Detailed technical and financial feasibility studies were undertaken over a two-year period by a range of experts in sustainable development, tropical forestry, plantation management, biomass energy, energy markets, and carbon accounting. Their key findings and recommendations have been incorporated into a robust business plan that includes projected costs and revenues for thirty-years. See References.
The State Government of Acre has expressed its interest in expanding the project from 70,000 to 125,000 ha. following successful "proof of concept." Meanwhile, one other state government in Brazil and three national governments in the LAC region have reviewed Refloresta's business plan and expressed their interest in replication. One promising landscape has already been identified in Colombia.
Environmental and Social Impacts
A Social and Environmental Management System (SEMS) will be developed to minimize risks whilst maximizing benefits. The following IFC Performance Standards on Environmental and Social Sustainability have already been considered:
Social Impacts
Cultural heritage: Refloresta's activities will not have a negative impact on tangible forms of cultural heritage, unique natural features, tangible objects that embody cultural values, or intangible forms of culture in Acre. To the contrary, the company's activities are expected by the State to replace a widespread "culture of deforestation" with a "culture of reforestation." This change is critical to protecting the natural forests that play a central role in Acre's identity and cultural heritage.
Land acquisition and involuntary resettlement: Refloresta will not acquire plantation land in Acre. Instead, it will rely on cooperative agreements with local landowners to meet production goals. Though these agreements will restrict landowners' use of natural forests, participation is strictly voluntary and will culminate in net financial gains. As such, there is no risk of direct economic displacement for landowners.
Labour and working conditions: Refloresta will trigger several thousand green jobs in plantation, renewable energy and sustainable timber industries. Laws governing labor and working conditions in Brazil are quite stringent. By following these laws, which mandate equal opportunity, ensuring occupational health and safety, a decent living wage, rest brakes, grievance mechanisms etc., Refloresta will provide its employees with fair and safe working conditions.
Community health, safety and security: The greatest risks to community health and safety, as well as livestock are degradation of existing water supplies through contamination by pesticides, herbicides or fertilizers. Refloresta will take steps to protect water supplies/waterways by establishing a permanent buffer of native vegetation and planting along contour lines.
Environmental Impacts
Refloresta acknowledges both its moral and regulatory responsibilities to protect and conserve biodiversity, maintain ecosystem services, and promote the sustainable management of living natural resources through the adoption of practices that integrate conservation needs and development priorities. These responsibilities will be met by implementing industry best practices – structured, monitored, and evaluated under the most appropriate certification scheme, in conjunction with national and international laws and regulations.
Protecting and conserving biodiversity: Refloresta's plantations will be established in previously deforested (pasture) areas. No biodiversity loss is anticipated from re-foresting these modified habitats. Meanwhile, assisted natural regeneration along waterways (i.e. the creation of Permanent Conservation Areas) will provide valuable habitats and biodiversity corridors.
Legally protected areas: The Company's planned activities will not intrude on legally protected areas.
Invasive alien species: The Company's planting program includes non-native tree species that have already been established in the country and region. Accordingly, Refloresta can proceed with their use upon the condition that the company plants non-native tree species in line with existing regulatory frameworks, and actively prevent their spread.
Ecosystem services: Refloresta will develop Sustainable Farm Management Plans with each of its private plantation partners. These plans will identify ecosystem services that may be affected by plantation activities, assess potential impact, and stipulate activities that must be undertaken to avoid adverse impacts.
Sustainable management of living natural resources: Refloresta will locate plantations on unforested land, apply industry-specific good management practices and available technologies, and become certified under one or more relevant and credible standards (e.g. FSC or CEFLOR).
---
Who will take these actions?
The feasibility of this ambitious project hinges on coordinated efforts by a number of public, private and civil society organizations. A linchpin agreement has already been signed between Floresta and the State Company for the Development of Environmental Services (CDSA) to establish and govern Refloresta. Complementary Memorandum's of Understanding have been signed between Floresta and the Brazilian Government's Agricultural Research Corporation (EMBRAPA), Floresta and WWF Brazil, and Floresta and the Federal University of Acre's Faculty of Forestry. This last MoU aims to provide practical training in sustainable forestry to the next generation of professionals through structured internships.
Substantial progress has also been made with potential private sector partners to install and operate the biomass-based power plants. Two lumber mills operating small biomass power plants have expressed an interest in partnering with Floresta to expand their generating capacity by 10-15 MW. Meanwhile, Floresta is assessing two competing business cases to install and operate 20-25 MW of generating capacity through ultra efficient/low-emissions biomass gassification plants.
Refloresta:
Establish forest plantations on degraded land though the provision of material, labor, and technical expertise
Monitor and manage network of forest plantations to ensure that social and environmental standards are maintained (with landowners and service providers)
Harvest forest plantations and manage transport to mills/power plants
R&D to improve exotic plantation species and develop plantation-compatible native varieties (with EMBRAPA)
Floresta and CDSA:
Mobilize resources and manage financial flows
The Acre State Institute of Climate Change (IMC) with landowners:
Develop Sustainable Farm Management Plans:
Monitor landowners' compliance with Sustainable Farm management Plans to ensure REDD targets
Private sector energy partners:
Expand existing and install new biomass power plants
---
Where will these actions be taken?
Reforestation activities will take place on deforested land along the BR-317 and BR-364 roadways in the State of Acre, Brazil. Meanwhile, biomass-based power plants will be built on degraded land near major population centers.
In-keeping with the project's overarching social and environmental goals, planted forests will be established on privately owned farms/ranches scattered along the State's main deforestation corridor. This will result in a complex, "mosaic" style landscape composed of both production and conservation oriented patches. No activities will take place on land claimed or contested by Indigenous Peoples.
Acre's population of approximately 776,500 is relatively low for an area of its size (roughly the size of New York and New Jersey combined) but growing quickly as migrant families arrive in search of land and livelihoods. Nearly 40 per cent of Acre's population lives in poverty. Agriculture is the fastest growing sector for employment. This has direct implications for land use/land use change in Acre.
Despite the political imperative to grow Acre's economy, the State Government has endeavored to take a cautious approach safeguarding forest environmental goods and services as pre-requisites for long-term economic growth. Indeed, over the past fifteen years, the State Government has invested considerable effort in building broad public appreciation for the role that forests must play in sustainable development – including mitigation and adaptation to climate change. As a result, Acre retains 87 per cent of its original forest cover.
Though Acre has escaped the high deforestation rates of neighboring states, this could quickly change. The Interoceanic Highway connecting Brazil and Peru through Acre is opening up trade to Pacific markets. Meanwhile, the older generation – many of whom participated in the grassroots environmental movement led by Chico Mendez – is giving way to a younger generation prioritizing material affluence over forest conservation.
---
How much will emissions be reduced or sequestered vs. business as usual levels?
REDD+
Under the Verified Carbon Standard (VCS), the project would sequester between 4 and 4.5 million tons of CO2 from reforestation activities, depending on the rate of plantation establishment. Meanwhile, and more importantly, the State Government of Acre calculates that project activities would reduce emissions from deforestation and forest degradation by at least 19.5 million tons over 10 years.
Renewable energy
The plantations would generate biomass to displace 35 MW of energy from fossil fuels. Depending on the efficiency and fuel mix (e.g. biomass + municipal waste) used in specific biomass gassification plants, this could result in another 1 million tons of emissions reductions versus a business-as-usual scenario.
---
What are other key benefits?
In addition to delivering substantial GHG reductions, the project would also:
Play an important role in protecting natural forests and, thereby, conserving biodiversity across the landscape,
Reduce soil erosion, stabilize soil structure and increase soil organic matter since planted trees will be harvested at the base, leaving root structures intact to provide a protective lattice that gradually decays into the soil,
Generate approximately 3,000 green jobs in the State,
Provide a sustainable supply of raw materials to wood industries in Acre (a critical employment sector),
Reduce poverty by providing well-paid rural jobs with benefits,
Safely reduce stockpiles of municipal waste,
Demonstrate a scalable, replicable strategy to converting the economic drivers of deforestation in the Amazon to drivers of reforestation,
Demonstrate that governments can increase productivity (GDP), jobs and the local tax base by supporting green economic growth.
---
What are the proposal's costs?
Our integrated REDD+energy project will invest US$300m in net value over ten years to establish 70,000 ha of forest plantations across a patchwork of degraded lands and US$50m over seven years to install 35MW of output capacity in biomass-based renewable energy. Though these figures are large, they are attainable for a number of reasons, including:
Forward purchase agreements with mill and power plant operators make the forestry project bankable,
A power purchase agreement and rising energy prices make the energy project bankable, and
Early investments will generate cash-flow to offset later investments.
Detailed financial analyses have been produced for the 2015-2045 period. A service contract has already been signed with Ernst & Young Global Limited to audit and validate these figures.
---
Time line
(image 6: management plan for en situ test plot)
2011-2012:
Consultations with local stakeholders and iterative project design process
Comprehensive technical and financial feasibility assessments
Establish test plots with eucalyptus varieties on different soil types
Establish agro-pastoral (mixed forestry and pasture) demonstration plots
2013-2015:
Management and monitoring of test/demonstration plots
Environmental and Social Impact Assessments
Development of environmental and social risk management strategies
Negotiations with state entities
Identification of local service providers (e.g. nursery owners, tractor owners, etc. capable of supporting an ambitious planting agenda)
Identification of other service providers (e.g. engineering companies capable of installing biomass power plants)
Resource mobilization
2016-2025:
Partnership Agreements will have been signed with at least 500 smallholders and approximately 250 medium and large farmers.
At least 70,000 ha of deforested land along the BR-317 and BR-364 will have been rehabilitated by establishing economically viable plantation systems on individual farms. At least 25,000 ha. will be established by 2019.
All program Partners will have completed sustainable land management plans and be receiving regular income from plantation forests.
The conversion of natural forest to pasture will have permanently stopped on participating farms by improving their productivity and profitability, as well as generating socially and environmentally sustainable off-farm employment opportunities.
By 2021, 35MW of generating capacity will be built, timed to coincide with the availability of plantation-based biomass.
---
Related proposals
---
References
Acre State Government. 2015. Jurisdictional subnational program for incentives for environmental Services of Carbon of the State of Acre, Brazil - Acre ISA Carbon Program. JNR Program Description. VCS Project Database. Available on the web athttp://www.vcsprojectdatabase.org
Bremer, L. and K. Farley. 2010. Does plantation forestry restore biodiversity or create green deserts? A synthesis of the effects of land-use transitions on plant species richness. Biodiversity and Conservation. December 2010, Volume 19, Issue 14, pp 3893-3915.
Carbon Decisions International, Ltd. July 2012. Sustainable Forest Lanscape Investments in Acre: final report of key findings and recommendations. San Jose, Costa Rica.
CARE Brazil. November 2011. Consultation Process for a Low-carbon Agroforestry Extension Service in Acre. Sao Paulo, Brazil.
Figueiredo, E., L. de Oliveira, and L. Ferreira Barbosa. July 2005. Teca (Teca grandis): key questions for forestry enterprises. EMBRAPA Document 97. Embrapa Acre, the Agroforestry Centre of Acre, and the Federal Government of Brazil: Rio Branco, Brazil.
Floresta Brasil, S.A. and the Acre State Company for the Development oF Environmental Services (CDSA). March 2015. Refloresta Acre, S.A. Business Plan. Rio Branco, Brazil.
Floresta Holdings, Ltd. February 2012. Sustainable Forest Landscape Investments in Acre, Feasibility Study. London, UK.
Larrosa & Santos Consultores Associados, Ltda. December 2011. Assessment of Isolated Energy Markets in the State of Acre.
Sustainable Carbon, Ltd. (Projetos Ambientais Ltda.). August 2011. Commercial and Technical Proposal for Emissions Reduction Project to Eliminate Fossil Fuel Based Energy in Acre by Building Biomass Power Plants. Sustainable Carbon, Ltd. Sao Paulo, Brazil.
Virta, J., L. Carbonnier, and H. Jappinen. March 2011. Sustainable Forest Landscape Investments in Acre, Identification Study. Floresta Holdings, Ltd. London, UK.