---
Pitch
Park&Pedal is a new multimodal transporation method that provides an alternative to commuters who live too far from work to ride their bike.
---
Description
Summary
Park&Pedal consists of a network of parking hubs that allow commuters to drive their car from their house to the Park&Pedal hub, park, and ride their bike the rest of the way to work, thereby avoiding "last mile" traffic issues and parking in the city.
Information can be found at www.parkandpedal.org.
Park&Pedal appeals to the 60% of the population who surveys have found when asked about bicycle commuting are "interested but concerned" (source: Cambridge Network Master Plan 2014). A different survey done by Google Mountain View found that employees gave three reasons why they don't ride their bikes to work: 1) Distance, 2) Ride Stress, and 3) Connectivity (see page 19 of the Google Bike Vision Plan).
The average U.S. commute is 12 miles and getting longer (see US Dept of Transportation). The average Boston worker who is interested in riding a bike would like to ride 3 to 6 miles to work. This disconnect causes many not to ride at all. Park&Pedal bridges this disconnect in providing a manageable step toward bicycle commuting by strategically locating Park&Pedal hubs cycling distance from areas of employment.
The Google Bike Vision Plan identified Ride Stress as the second reason why many do not commute by bicycle. Park&Pedal strategically locates hub in areas near bicycle paths thereby offering Park&Pedal commuters a low stress route to ride to work.
Finally, the Google Bike Vision Plan identifies the lack of Connectivity of bike paths from workers homes to their jobs as the third reason why many don't ride. Again, strategic locations of Park&Pedal hubs allows commuters to drive to locations with good connectivity to their employment location. In some situations, this may be a lateral drive, in terms of the drive does not take them to a location closer to their office, but rather to a location that offers connectivity and a low stress cycling route. This concept is illustrated as follows: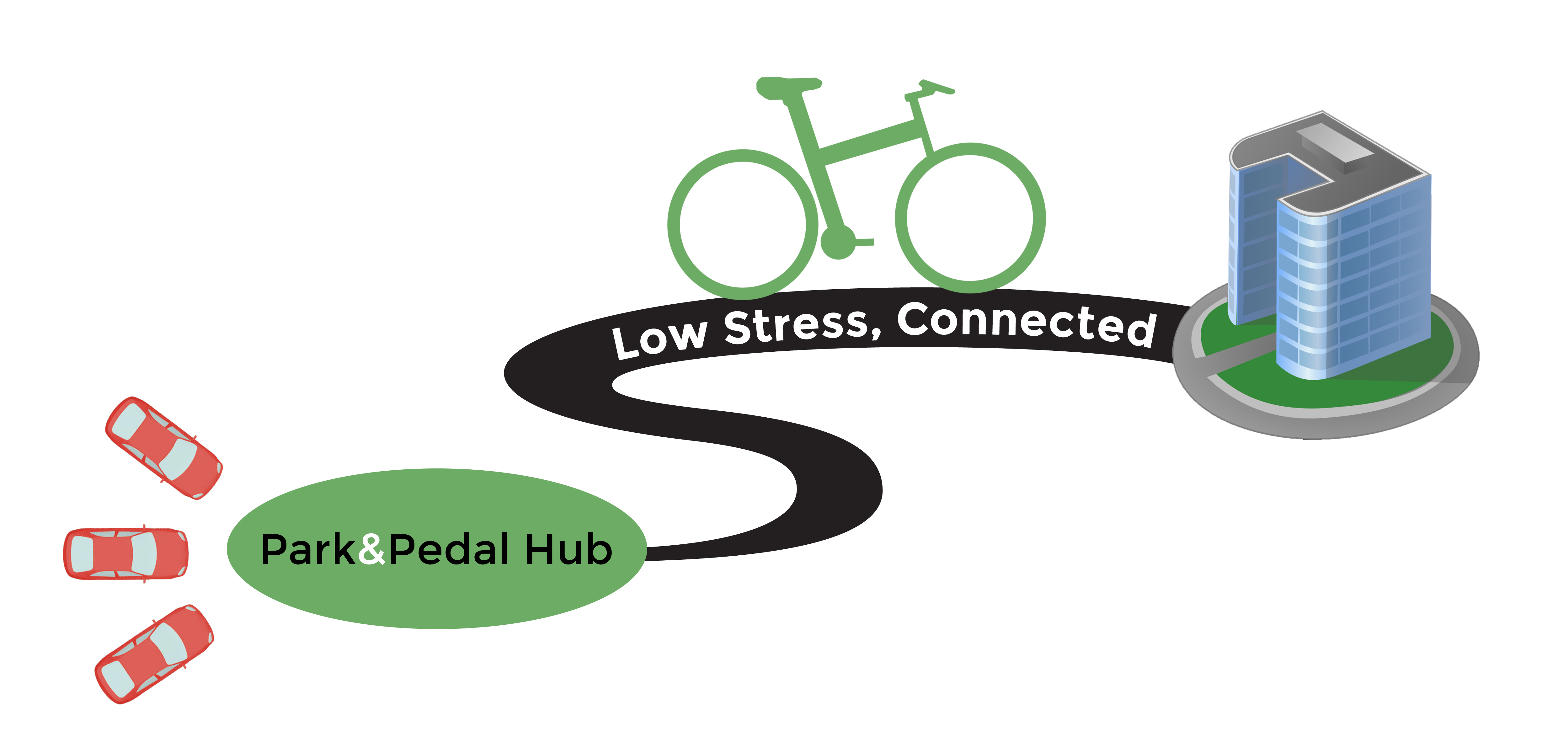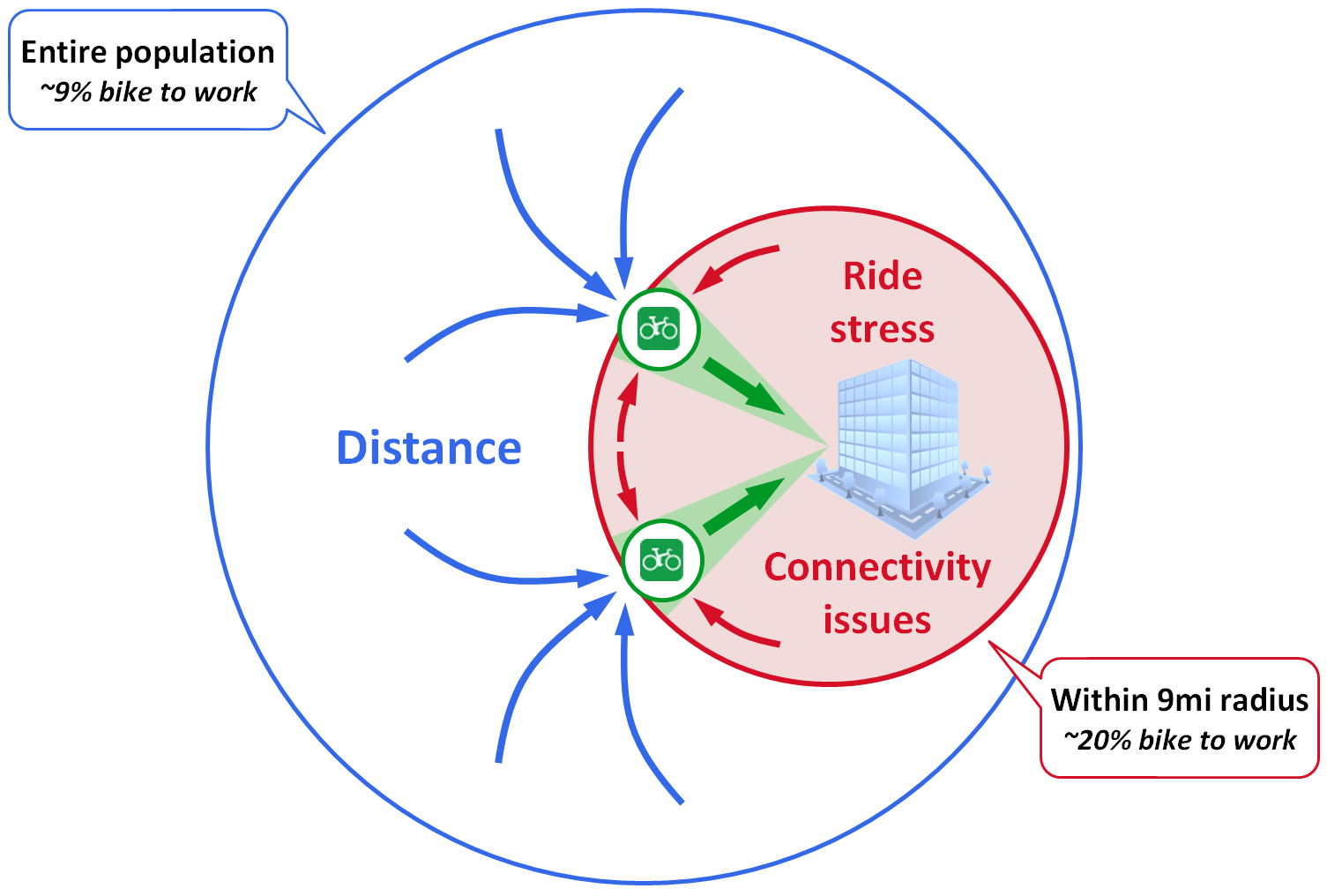 ---
What actions do you propose?
The Park&Pedal concept is novel in that, as new transportation solutions go, it is relatively easy to implement. Montague Corporation, in cooperation with the Massachusetts Department of Conservation and Recreation, Governor Charlie Baker, Secretary Pollack, and Secretary Beaton launched America's first Park&Pedal network this past summer.
Please see the press release regarding the launch.
All parties involved agreed that using existing, underutilized parking areas, Park&Pedal requires a fraction of the cost of implementing, for example, a Park&Ride location. Park&Pedal also does not require a certain critical mass for each hub location (i.e. no train station to build). So many more conveniently located smaller hubs can be offered (similar to the Zipcar model). Furthermore, retailers such as the Arsenal Mall have installed a Park&Pedal spaces. They have excess Monday through Friday parking and welcome healthy employed potential customers to stop by their retail establishments twice a day.
Park&Pedal can go a long way toward getting commuters out of their cars, and on to their bikes. In doing so, it promises to reduce congestion, reduce emissions, and reduce parking issues in cities.
Park&Pedal is a realistic solution that allows commuters to try something different. While we would like everyone to ride their bicycles all the way to work, that is simply not a realistic expectation. Park&Pedal provides an entry to bicycle commuting, and with locations at varying distances from employment centers, promises to allow commuters to choose increasingly longer rides if they choose.
We would like MIT alumni to encourage their employers to add incentive programs to their employee benefit programs for participating in Park&Pedal or other active commuting solutions. Furthermore, we would ask that they encourage MIT to incentivize its employees to Park&Pedal to work.
Harvard University's Mark Rabinsky said; "Park&Pedal is an excellent fit for Harvard's sustainable transportation initiatives. The program shows great potential to reduce last-mile congestion in the dense urban environments surrounding the University's campuses, while promoting safe and accessible bicycle commuting."