---
Pitch
A community challenge to sequester carbon and create resilience through regenerative projects, art and community engagement.
---
Description
Summary
This summer, Boulder will demonstrate what is possible when a community commits to soil carbon sequestration as a tool for climate mitigation. Soil can play a critical role in averting climate disaster. Soil sequestration refers to a natural process that plants are doing all the time! Plants remove excess carbon dioxide from the atmosphere where it is stored as organic matter in the soil, and in the bodies of the plants. Techniques of soil sequestration can be employed which accelerates this process to store significant levels of carbon in soil.
Earth Guardians proposes a community initiative which engages schools, businesses, farmers and municipalities to compete in teams to enact soil sequestration projects. This challenge will unify the region behind this common purpose.
Earth Guardians is led by climate luminary and 15-year old indigenous hip hop artist Xiuhtezcatl Martinez. He has been presenting at schools and conferences, while building intergenerational partnerships for climate solutions. Xiuhtezcatl was a featured speaker at the Soil not Oil conference alongside Vandana Shiva and his involvement inspired the direction of this proposal.
Colorado's Front Range is a climate conscious community, and the need to move toward renewable energy and away from fossil fuels is well accepted by the majority. We would like to unite people around another strand of the solution story: soil sequestration.
The amazing potential for soil carbon sequestration has been recognized by the French government. France has challenged every nation of the world to join them in increasing soil carbon by 0.4%. If every nation reached this goal we would sequester 75% of all annual greenhouse gas emissions!
The challenge will incorporate proven techniques of carbon farming and soil sequestration. All of these projects will be tracked to show how much carbon is being sequestered. The goal is to inspire communities around the world with a model for regional carbon sequestration.
---
What actions do you propose?
At the heart of Soil for Life are regenerative projects which sequester carbon in the soil while building ecological resilience and creating abundant local food sources and local habitats. In this community challenge we will facilitate the undertaking of many connected projects across the Boulder community and ultimately across the region. We achieve this by uniting the community through arts, music, education and community outreach. Participants will connect with each other through events and an on-line hub.
Soil plays a critical role in the carbon cycle, and thus, in climate stability. Plants convert carbon from atmospheric gas and put it into the soil where it serves as a nutrient in the form of organic soil matter. Living forests are massive carbon sinks which are hard at work every day sequestering carbon. But building soil through permaculture techniques can happen more rapidly than growing rainforests.
Soils that have been damaged by industrialized agriculture and have lost more than 50% of their carbon content, 320 billion tones of carbon. This gets emitted to the atmosphere through tilling, deforestation, and chemical fertilizers. To put this in perspective, the amount of carbon that soil has lost to the atmosphere is the equivalent of 84,019 coal power plants running for one year, or 67 billion passenger vehicles driven for one year! Carbon emissions from soil is a significant driver of climate change. (Source: EPA GHG Equivalencies Calculator)
On the positive side, soil sequestration has the potential to sequester immense amounts of carbon, reversing this harmful cycle. A full draw down to safe atmospheric carbon dioxide levels will require many movements and solutions, but soil has a significant role to play.
Measurement and Impact
Boulder is the perfect place to enact this project because our community has a large number of climate scientists as well as open space and farmers. For this project we will partner with soil scientists at local universities to create a simple test people can do measure the carbon content of soil before and after a #SoilForLife project.
Eugene Kelly, the Department Head of soil science at Colorado State University, is interested in partnering with the project. Another partner is Project Drawdown, who is doing data-based research into climate solutions. Drawdown Founder Paul Hawken serves on the RYSE Wisdom Council with Earth Guardians, and our partnership with them can help us in establishing clear metrics to measure projects.
Community arts and music event
During the month of May we'll host the Soil for Life Launch. The event will include workshops on related topics, a concert and mural making. To reach a wide and diverse audience within our community, we will create a collaborative mural that tells the story of community resilience amidst a changing climate. The event will celebrate our love for our community, our planet and the soil which provides a potent solution to climate change.
Earth Guardians Performing at the Fox Theater. Check out their music video, Speak for the Trees, here.
Website and App
The Soil for Life team along with local technology enthusiasts will create a simple, easy to use website, app and mobile site, which allows users to interface with the project. The website will feature detailed how-tos about various soil-carbon projects as well as estimated carbon savings. The website and app will also feature an easy to use input for data collection of implemented projects and a cumulative carbon savings tracker. The website will also serve as a place for photos, video and testimonials.
Agroforestry
possible sites: backyards, schoolyards, public parks, University campuses, on the side of roadways
Trees are a critical piece of the puzzle for climate solutions. Multispecies food forests is a technique of planting many trees in a contained space which creates symbiotic relationships, retains much more water, and builds healthy soil which sequesters atmospheric carbon. On average one tree can sequester as much as 48 pounds of carbon dioxide per year, and can sequester one ton of carbon dioxide by the time it reaches 40 years old. We will implement tree plantings and food forest construction.
a food forest being planted
Biochar
possible sites: anywhere! Can be made in any space large enough to have a small fire. Schools, homes, public areas.
Biochar is a carbon negative, low cost and fun way to sequester carbon. Making biochar is done by heating organic mass such as branches and yard waste in a high heat, low oxygen environment. The result is a solid biomass which is a great soil amendment, it also results in sequestering impressive amounts of CO2 over a long time scale. According to one prominent study (Woolf et al, 2010), sustainable biochar implementation could offset a maximum of 12% of anthropogenic GHG emissions on an annual basis. We would partner with the Rocky Mountain Biochar Initiative (RMBI) to host workshops and provide the containers needed to make biochar. See more: Biochar and Carbon Sequestration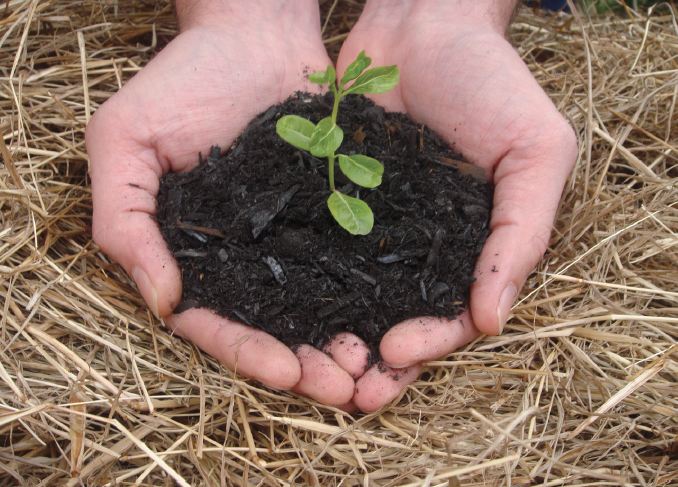 We <3 Biochar
Municipal Compost Use
We will partner with the City of Boulder to explore ways to use compost generated from municipal composting to go to some carbon farming projects. When compost is spread over grassland, the grasses can put down deeper roots and pull exponentially more carbon from the air into soil. Nederland Compost is actively looking at new ways to use compost effectively, and we will likely partner with them.

Biointensive Gardens
Biointensive agriculture is a solution which creates a "living mulch" through close plant spacing. The technique was popularized in the book "How to Grow More Vegetables." The result: abundant, higher yield gardens which also build soil health and fertility. Converting lawns to biointensive gardens will address food access issues as well as carbon sequestration. Building healthy soils accomplishes more than just climate mitigation, the nutrient-rich soil helps with water retention during droughts and absorbs excess water during floods.
Rotational Grazing Grassland Restoration
Pioneered by Allan Savory, rotational grazing of animals on grasslands can rapidly build soil and sequester carbon. We will partner with local farms such as Golden Hoof farm in Boulder, which is already raising cows, sheep and pigs using regenerative rotational grazing techniques. We would work with local farmers to implement these techniques and challenge community members to adopt them if they have land.
"Intersection Repair" street mural projects
Inspired by the Village Building Convergence in Portland, residents can team up with neighbors to create a mural at street intersections which create a sense of place in the neighborhood. These projects are key to building community.
residents in Portland implementing a community designed mural in their neighborhood
Grassland and Habitat Restoration
These are actions to rehabilitate brown zones throughout Boulder by planting native grasses and perennial landscapes. This can quickly build soil and sequester carbon.
We are building off existing models with proven success. The Marin Carbon Farming Project is successfully implementing regional-scale carbon farming initiatives with support from farmers, landowners and local governments. The City Repair Project's Village Building Convergence has been an ongoing community permaculture and resilience project for 15 years. They have pioneered a community design and project implementation model which we could build on. Mark Lakeman, creative director and Chair of the Board of City Repair Project will be consulted for this project.
Learn more: Soil Solutions to Climate Problems - Narrated by Michael Pollan
Looking Ahead Expansion to Other Regions:
The Soil For Life team will then publish the scientific results, verifying the climate impacts of a regional soil sequestration plan. Along with results, the team will publish best practices, lessons learned and further recommendations for implementation. In addition the Earth Guardians, via it's worldwide network of climate solutionaries, will publicize the projects successes with a call for other regions to replicate. This will be achieved through the creation on-line media content, a press strategy and through a network of luminaries and the broader climate justice network. Within this will be a call for other regions to go above and beyond what the Front Range region has accomplished.
---
Who will take these actions?
This project, facilitated by Earth Guardian's Boulder team, will bring together people throughout the Boulder community and beyond. We work with middle school, high school, and college students along with parents and mentors. Earth Guardian's has a network of over 400 crews globally, and we will spread news of this project in the form of videos, blogs and calls to action to our international crews. Learn more about EG Crews here.
Earth Guardian's Boulder crew working on a project
Our Boulder Crew will be a lead player in taking these actions. In addition we will engage allied groups and individuals from the community and internationally including:
City of Boulder
County Government
Naropa University Sustainability Council
CU E-Center
Local farmers and land stewards such as Golden Hoof farm
Growing Gardens and other local nonprofits
RYSE Wisdom Council, including Paul hawken, Winona LaDuke, Joanna Macy
Boulder Farmers Market
local musicians


Xiuhtezcatl Martinez, Youth director of Earth Guardians speaking at a rally on Pearl St in Boulder
Teams
Formation of teams will be critical to this project. We will recruit volunteers through promotional events such as concerts, potlucks, and through online channels. Teams will on average be between 4-6 people, as this is a effective number to organize projects. Teams will receive a "how-to" guide with suggestions for roles, tactics, communication and data entry. Proposed team roles include citizen scientists who will measure carbon in the soil before and after the project, land evaluators who will assess different project sites, and plant lovers who can help design the projects. Teams will have access to resources, both written and in person, to get guidance and advice on their projects.

Teams can be groups of students, neighbors, professionals, or can organize around a specific piece of land.
Teams will communicate with each other via an online platform to report on progress and share best practices.
---
What are the key challenges?
One key challenge will be tracking the impact of projects. There are two challenges within this, input and calculation.
Input Challenge: We will have to rely on community volunteers to input their projects into a system that will track carbon sequestration. This will require an easy to use system with clear guidelines for how to input data.
Calculation Challenge: Calculating the climate impact of soil regeneration is a fairly new science. We will need to team up with experts from allied organizations to know what critical data is needed to plug into the system and how to calculate the results. These organizations include Drawdown.org, the Rodale Institute, Regeneration International and Marin Carbon Project.
A further challenge we anticipate is getting buy-in from existing farmers who may not want to change their practices. We know of some farmers who are excited to try out these techniques, but others may not have the financial freedom to experiment with new practices. One solution to this will be to highlight early adaptors in the farming community, and partner with them to host educational forums about these practices.
Incentivizing volunteers and getting community buy-in is a further challenge which can be addressed through thoughtful design of the project. Many high schools and colleges require service hours and community service, and community service. Earth Guardians already successfully works with many volunteers who are motivated by the fun and excitement of being part of the solution to the climate crisis. Prizes and rewards will also be used for teams that sequester the most carbon.
Earth Guardians needs to increase our organizational capacity to successfully implement this project. Funding from Climate CoLab will in part go to staff hours to facilitate implementation of the project. We need to increase our capacity in order to get this off the ground. A steering committee will also be formed to hold the container for this project.
---
What are the key benefits?
We foresee 'Soil for Life' becoming a rallying cry for local climate action and one that will resonate beyond the Rocky Mountains. There is something powerful that happens when a community comes together to work on a project of great significance. We've seen similar phenomenon with local campaigns, such as the 'municipalization effort' in Boulder. Soil for Life provides another option for people who don't posses expertise in policy or engineering.
We envision a platform that will call upon the various skills and ingenuity of the community. The project will engage the tech community, agriculturalists, artists, musicians, policymakers, scientists, mathematicians, teachers, business owners, community organizers and anyone who wants to lend a hand. By incorporating so many roles for so many different kinds of people, this project will be inclusive and bring the community closer together.
Through community implementation of regenerative projects, we will provide
Awareness of soil as a climate solution
Local food access in Boulder
Improved air quality
Greater city-wide resilience to floods and droughts
A sense of community pride and unity
A template for future regional soil sequestration initiatives
A goal for other cities to aim for
Hope that we can address the climate crisis in a collaborative and fun way
---
What are the proposal's costs?
Web Platform (app, mobile site, website): $2,500
Staff Time: $2,500
Seeds: $100
Tools: $300
Trees: $500
we will work with local businesses and programs to receive as many in-kind donations of the above materials as possible
Concert upfront costs: $1,000 (with potential for $3,000 in revenue)
Promotional Materials: $250
---
Time line
Phase One: Coalition Building and Community Partnerships
Feb 1st-April 22nd, Earth Day
Community connections and relationships will be key to success for this project. Between February 1st and Earth Day, April 22nd, we will reach out to key stakeholders in the community to pitch our project and form alliances and relationships. Earth Guardians currently engages a wide network of people spanning the fields of youth leadership, direct action and organizing, business leaders, political leaders and public figures. We will utilize these existing partnerships and build new ones to form a strong alliance for the Soil for Life challenge.
Phase Two: Education, Outreach and Project Planning
April 22nd-June 1st
During this phase we will create the online infrastructure for the project. We will create a detailed "menu" of different regenerative strategies on a user friendly website.
We will send out official invitations to community groups, schools, businesses and local government offices to take part in the challenge, and empower and support people to plan regenerative projects. This project planning phase will be one of collaboration and we will use collective intelligence tools such as open space, world cafe, and social media to foster connection and collaboration.

We will organize and plan a launch event, featuring music, workshops and opportunities for networking. In this phase we will also begin the mural project and do lots of outreach at schools, community centers and via social media.
Phase Three: Project Implementation "Soil for Life" Challenge
June 1st, 2016 - April 22nd, 2017
We will move forward together as community to implement various regenerative projects in a competitive yet collaborative way. People will form teams and work together to implement a project, and we will track these projects and measure sequestration via the online platform. We will add these all up at the end of the challenge and celebrate!
Phase Four: Expansion To Other Regions
2017-2030
---
Related proposals
Platform for Community Engagement around Achieving Carbon Neutrality
---
References
https://www.greenamerica.org/pubs/greenamerican/articles/Winter2015/living-soil.cfm
Year of Soils info on soil sequestration:http://www.fao.org/soils-2015/resources/information-material/en
A secret weapon to fight climate change: dirt:https://www.washingtonpost.com/opinions/2015/12/04/fe22879e-990b-11e5-8917-653b65c809eb_story.html
http://www.motherearthnews.com/homesteading-and-livestock/sustainable-farming/soil-carbon-sequestration-rotational-grazing-ze0z1208zkon.aspx
https://www.environment.gov.au/climate-change/emissions-reduction-fund/cfi/about
http://rodaleinstitute.org/assets/WhitePaper.pdf
biochar: http://www.biochar-international.org/biochar/carbon
trees: https://www.americanforests.org/discover-forests/tree-facts/