---
Pitch
A knowledge sharing platform for local governments in India and engaging citizens in the decision-making to facilitate urban resilience
---
Description
Summary
Cities face multi-dimensional pressures of rapid population growth, high economic growth, and infrastructure development; coupled with nuances of climate change. In developing countries such as India, these pressures are exacerbated due to inadequate infrastructure and unplanned growth.
Supported by Local Agenda 21, and ongoing discussion about the Sustainable Development Goal for cities, city governments have the potential of acting as drivers for integrating resilience in urban planning. However, Indian city governments currently work under significant capacity constraints that limit their ability to focus on resilience planning.
Having said that, in the past decade several opportunities to work on resilience have emerged. Various organizations have successfully implemented urban resilience projects. However, their outreach has so far been limited with no existing mechanism to enable sharing of this knowledge across cities. Additionally, there is an underlying problem of building capacity of local bodies that is seldom addressed. There is an exigent need to address the lack of capacity that exists in the cities for resilience planning and sharing of resources and knowledge generated through these novel projects.
This proposal suggests tapping into existing knowledge in the cities for facilitating urban resilience. It emphasizes on enabling knowledge sharing at two levels: city-to-city sharing of information and expertise; and using in-house knowledge of key experts in the cities.
---
Category of the action
Urban adaptation
---
What actions do you propose?
Local governments have a unique potential to drive the development and enhancement of urban areas. They oversee the basic services and major development in the cities. Combining their governance expertise with external resilience planning skills can help in transforming these cities into sustainable and climate resilient communities while enabling their economic development.
This proposal discusses two such approaches that tap into the existing skill set of local governments and citizens to facilitate resilience.
1) A participatory knowledge-sharing portal for local governments in Indian cities
Given the resource and capacity constraints that exist in city governments in India, there is a need for a novel approach to better manage the existing resources. Sharing of resources such as knowledge and expertise is one such solution. We suggest creation of an online portal that enables knowledge sharing amongst city governments.
About the portal:
This portal will build upon the ongoing investments made by national and international governments and organizations in these cities by spreading their outreach to other cities. It will help in sharing of ideas, expertise, and knowledge and provide a live platform for city governments to discuss their issues with cities facing similar problems. It will therefore enable mutual learning through enhanced communication between cities. The portal will also be a professional networking tool exclusively for cities.
Features of the portal:
City profiles: Every city will have a profile that will include information about the city and its basic services. Ministry of Urban Development, Government of India, had launched a program on benchmarking the basic services called 'Service Level Benchmarking'. This program can be leveraged for developing the city profiles. It will ensure uniform information across cities. Further, the cities can upload their completed, ongoing, and upcoming projects for other cities to view. The portal will have predefined categories under which these projects can be uploaded. Cities will have the option of uploading the same project under multiple categories.
Employee profiles: City government employees from each city will have their individual profiles talking about their expertise and the projects they have worked on. This will make access to the person involved in a certain project easier for other cities.
Further, local NGOs and expert organizations in city sustainability and development such as ICLEI – Local Governments for Sustainability (South Asia), The Energy and Resources Institute (TERI), and ARUP will also have a profile defining there area of expertise.
Instant messaging: The members will be able to send instant messages to each other and have live conversations. This will promote virtual dialogue between cities and experts through an informal medium and promote mutual learning.
Video call: The portal will have a video calling feature embedded in it. This will allow the users to have live video calls with each other and have virtual meetings between cities.
Discussion board: A discussion board will also be available to the users where they will be able to start discussion on any topic. These discussions will be tagged with the help of hashtags which will make it convenient for a user looking for a discussion on a topic that interests him/her. This will help in solving problems and learning from each other's experience. Further, it will help in establishing networks between cities and experts, and cities-to-cities.
Data upload: The portal will allow the users to upload data about their projects and interesting articles that can be viewed by other users. Members of the portal will be able to upload documents, presentations, and videos. The field experts could share training videos for local governments that will allow the city government officials to attend these trainings without actually being present at the trainings.
Other resources: The portal will have provision for uploading information about upcoming conferences and opportunities to participate in various projects. Additionally, the information about upcoming national and international grants will also be posted on the portal. The field experts and local government employees will share this information.
The portal will allows cities to learn from each other about the projects they have implemented. Various urban resilience projects such as Asian Cities Climate Change Resilience Network (ACCCRN), Asian Cities Adapt (ACA) and many more have been helping cities in India reduce their vulnerabilities by adapt to the changing climate and building their resilience. The portal will help in taking the key learnings of these initiatives to cities across the country.
Indian government has developed a portal to encourage knowledge sharing between cities called PEARL. However, this initiative is only restricted to JnNURM cities which defies the underlying idea of knowledge sharing. Additionally, this portal does not allow city governments to interact through features such as video calls, instant messaging and so on, thereby making the communication between cities and virtual sharing of resources difficult. Further, it does not serve as a bridge between resourceful organizations and city governments.
In order to ensure participation of city governments in the portal it has to be mandated by Ministry of Urban Development (MoUD), Government of India. MoUD is the central body having outreach to all the cities and has the potential of serving as the apt platform to launch the portal. However, MoUD can further allocate the responsibility of managing the portal to a NGO with extensive experience of working with local governments in India, such as ICLEI South Asia.
According to 2011 census, India consists of about 7,935 towns (towns, cities and out growths). This is a significantly huge number to start a new program. Many of these cities do not have access to computers or are just beginning to have these resources. Therefore, they do not have the capacity to access such a portal with ease. This proposal addresses these issues in two ways:
Firstly, the project will be started with a group of pilot cities that face similar issues and therefore can benefit from each other. The project will be rolled out in several phases. The pilot phase will start with three cities Surat, Mumbai, and Dehradun. The selection of these cities has been discussed later in the proposal.
Secondly, after the pilot phase is over, the project can be expanded to a second round of cities and gradually across the country. With the successful implementation of the project, it will provide the cities an opportunity to build their technological capacity. The project requires investment in basic technological equipment such as computers for the city governments. However, this is an investment that the government will have to make in the long run, irrespective of the project. Additionally, with a full roll out to the cities with limited computer access, MoUD will have to provide technical trainings to the city government staff. This project proposal accounts for these investments and since the project will be rolled out in different phases it will provide MoUD will ample time to build these resources.
ICLEI South Asia and similar organizations have vast outreach in Indian cities. Therefore allocating the management of the portal to these bodies will ensure its sustainability. Further, involvement of MoUD will ensure participation from cities to a certain extent. It is important that there is extensive hand holding for cities in the pilot phase, as success in this phase will help in bringing other cities on board. After the pilot phase, advertising and marketing of the portal will be a critical component. Social media can provide significant support for this. Further conferences such as the Mayors' conference, Sustainable cities conference, Delhi Sustainable Development Summit and so on can help in showcasing the success story of pilot phase to other cities. Apart from this investment in extensive communication will be helpful.
In order to ensure financial feasibility of the portal beyond the pilot phase, MoUD can leverage the requirements of the Company's Bill 2013 of India. The bill requires companies to devote 2 percent of their net profits to CSR every year. Environmental sustainability is one of the core areas to be addressed under the bill. This creates a remarkable opportunity to have access to funds for urban adaptation. MoUD can facilitate the conversation between the companies and the managing body to ensure availability of funds for further roll out. This cost will involve the fee of the managing body and the additional costs for the participating cities.
2) Formation of an advisory committee to the municipal council comprising of key city experts
The current stakeholder involvement in the decision making process of city governments in India is minimal. Stakeholder groups are temporary entities, formed for selected projects and are dissolved with the completion of the project. This reduces the ownership of stakeholders, as the association with the process is temporary and superficial. They do not hold any significant say in the process and therefore the interest from them is minimal.
There is a need to integrate stakeholder consultations formally in the planning and implementation processes of city governments. This proposal suggests formation of an advisory committee to the municipal council on issues related to urban resilience. This committee will consist of city experts on urban issues. The committee will be an appointed body by the council members. The key role of the committee will be providing their views and expert comments on the decisions to be made by the city council. All the steps to be undertaken by the city government are approved the city council. This committee will serve as an intermediary body in this process. These actions before being presented to the council will be discussed by the advisory committee. The committee will then submit its suggestions and views about the same, especially for projects related to urban resilience. This process will happen through monthly meetings. Committee member will be a voluntary position. The criteria for being a committee member will be decided by MoUD. The committee will serve a tenure of three years with a potential to be reappointed. It will help in bringing additional talent and resources to city governments that is currently lacking in Indian city governments.
Additionally, the committee will serve as a medium between citizens and local governments and will help in putting forward ideas and requests by citizens pertaining to urban resilience to city government. The committee will also a part of the portal and will provide its advisory services in the discussions. This is similar to the model adopted by many U.S. cities such as Austin. It has been extremely successful in U.S. cities and can be adapted for Indian cities.
---
Who will take these actions?
The key actors for the project will be:
Ministry of Urban Development, Government of India
Indian city governments – Surat Municipal Corporation, Municipal Corporation of Greater Mumbai and Dehradun Nagar Nigam
Key NGOs having potential to reach out to local governments such as ICLEI South Asia
NGOs with resources available for training city governments – ICLEI South Asia, TERI, TARU, ARUP etc.
Local experts in urban issues
---
Where will these actions be taken?
The pilot phase of the project will be undertaken in three cities: Surat, Mumbai and Dehradun.
Surat is a port city and lies on the banks Tapti river. It is situated in the State of Gujarat and is one of the most progressive cities of the country. Being a coastal city, Surat faced disastrous floods in 2006. It was a part of the ACCCRN network, and has a City Resilience Strategy.
Mumbai is a metropolitan city situated in the state of Maharashtra. Mumbai is the financial capital of India. Mumbai is the most populous city of India and has a seaport in Arabian Sea. Mumbai faced catastrophic floods in 2005 and has ever since been working of building its capacity to manage high intensity rainfall.
Dehradun lies in Northern India in the foothills of Himalayas. The city is located in the state of Uttarakhand. In 2013, Dehradun was affected by the dreadful Uttrakhand flood.
The three cities are geographically different from each other. Coming from three different states each one of them will provide diverse inputs to the discussions. These cities face similar urban issues such as increased rural to urban migration, stressed basic services, and more importantly urban flooding. Further, one of the cities (Surat) has been a part of a formal initiative to build its resilience and therefore has the potential to guide the remaining cities while learning from them.
---
What are other key benefits?
Some of the additional benefits of the proposed project are:
The background knowledge generated through the portal will help cities in being better prepared to access national and international grants for urban resilience
Increased technological capacity of cities by providing them with advanced computer resources
Online data management for city governments – SLB
Increased access to resources for cities that cannot attend national and international conferences due to budgetary constraints
Financial savings from the investment that would have otherwise been made in external consultants and face-to-face similar interactions
Reduced carbon footprint that would be generated by having similar discussions in person
Opportunity for cities to highlight their efforts and potentially become leaders and guide for similar actions in other cities
---
What are the proposal's costs?
One of the negative side effects of the proposed actions is over reliance of smaller cities (with limited resources) on other cities for ideas and expertise. However, we need to ensure proper checks and balances to ensure that access to this platform does not reduce their creativity and self-fulfillment capacity.
Note:
* Since the pilot cities already have computer equipment, this cost does not apply in the pilot phase
---
Time line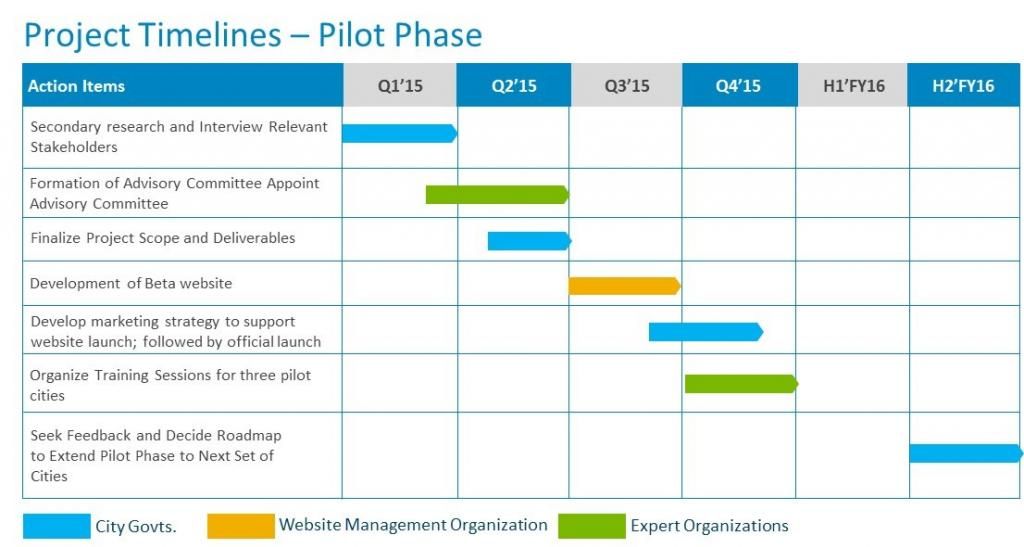 ---
Related proposals
N.A.
---
References
Sharma, D. Singh, R. Singh, R. Urban Climate Resilience: A review of the methodologies adopted under the ACCCRN initiative in Indian cities, http://pubs.iied.org/pdfs/10650IIED.pdf, accessed on 12 July 2014.
Local Agenda 21, http://sustainabledevelopment.un.org/content/documents/Agenda21.pdf, accessed on 12 July 2014
Sustainable cities and human settlements, http://sustainabledevelopment.un.org/index.php?page=view&type=9502&menu=1565&nr=15, accessed on 10 July 2014
Service Level Benchmarking, Government of India http://www.urbanindia.nic.in/programme/uwss/slb/slb.htm, accessed on 18 July 2014
ICLEI South Asia, http://southasia.iclei.org/, accessed on 11 July 2014.
The Energy and Resources Institute, http://www.teriin.org/, accessed on 11 July 2014.
ARUP, http://www.arup.com/global_locations/india.aspx, accessed on 11 July 2014
Asian Cities Climate Change Resilience Network, http://www.acccrn.org/, accessed on 12 July 2014
Asian Cities Adapt, http://www.asian-cities-adapt.org/, accessed on 12 July 2014
Peer Experience and Reflective Learning, http://www.indiaurbanportal.in/AboutUs.aspx?id=15, accessed on 10 July 2014
Census of India, 2011, http://censusindia.gov.in/2011-prov-results/paper2/data_files/India2/1.%20Data%20Highlight.pdf, accessed on 10 July 2014
Surat Municipal Corporation, https://www.suratmunicipal.gov.in/Contents/Default.aspx, accessed 18 July 2014
Municipal Corporation of Greater Mumbai, http://www.mcgm.gov.in/, accessed on 18 July 2014
Dehradun, http://dehradun.nic.in/, accessed on 18 July 2014